Visual Arts
Posted 3 years ago by ChamberMaster
Visioneering LLC features the art and design work of Pat Rawlings. Known internationally for his aerospace illustrations, Rawlings also focuses on creating digital and traditional...
Arts & Culture,Visual Arts / Wimberley / 393 views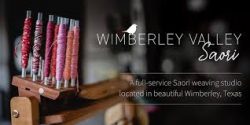 Posted 3 years ago by John Palumbo
Wimberley Valley Saori is  a Registered Saori Studio and Saori Dealer Saori weaving classes, looms, weaving supplies and yarn are offered.  Rigid heddle weaving instruction,...
Arts & Culture,Visual Arts / Wimberley / 393 views