Mardi Gras Dance & Concert
March 2, 2019 @ 7:00 pm

-

9:00 pm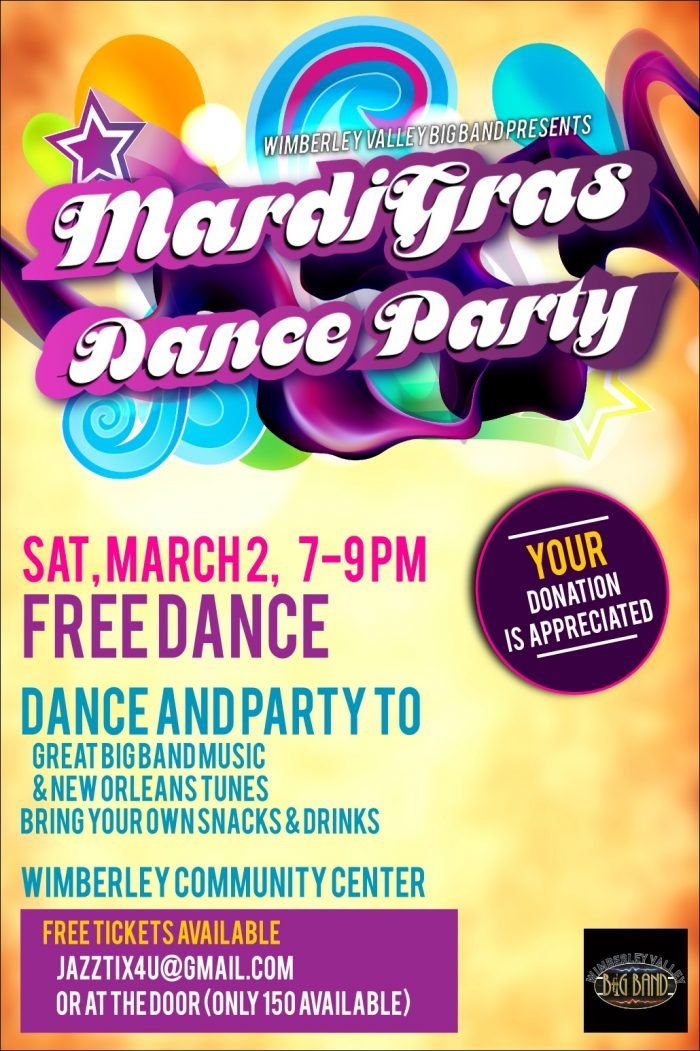 Yes, Mardi Gras is coming, and we are going to "let the good times roll" with a FREE dance to celebrate!
Not only will we be playing great big band music, we will also bring New Orleans to Wimberley in music.
So get out your dancing shoes, find your Mardi Gras mask, round up your friends, and get some tickets
(they are FREE, but we have a fire Marshall limit of 150 party-goers.)
What : FREE Mardi Gras dance/concert
When: Saturday March 2 from 7-9 pm
Where: Wimberley Community Center
Details: Bring your own snacks
BYOB
Setups will be available
Free parking
Tickets: get your free tickets by emailing us at jazztix4u@gmail.com or at the door.
Only 150 tickets available! Donations appreciated!
The Wimberley Valley Big Band is a 501.c.3 nonprofit dedicated to bringing quality Big Band music to the Wimberley Valley.
Comprised of all volunteer musicians ranging in age from 17-91, the Band is available to the community for dances, concerts,
and other entertainments.
Join our growing list of supporters by making a donation at our dances/concerts or by becoming a subscriber at one of the levels
shown below, either at the dance or using the DONATE button on our secure website
https://www.hillcountrycommunityband.org/jazzband/
–adding the notation "Wimberley Valley Big Band".
Help us keep bringing Big Band music to our area. YOUR donations make us possible.
Friend -$1-49
Patron -$50-99
Sustaining Patron -$100-499
Musician's Circle -$500-999
Director's Circle – $1000 +
We appreciate your support!
We will see you on March 2! Laissez les bons temps roulez!