Big Scoop Ice Cream Festival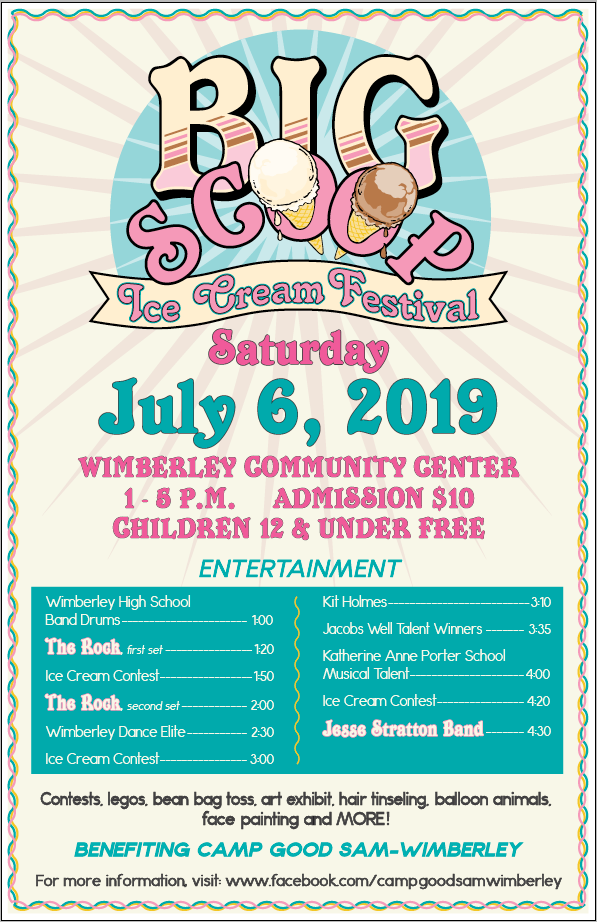 Join us for the Big Scoop on July 6, 2019 at 1:00 pm at the Wimberley Community Center!
Camp Good Sam-Wimberley addresses the needs of Wimberley's at-risk students by countering their summer learning loss, lack of access to healthy meals, isolation, inactivity, and often, lack of a safe environment. The program is funded through grants and individual contributions and serves children of all races. With no denominational strategy or bias the camp respects the religious preferences of all its participants.
What better way to support a Wimberley program than through a community event. The Big Scoop Ice Cream Festival will be held on Saturday, July 6th, 2019 at the Wimberley Community Center, from 1 p.m. to 5 p.m.  It is old fashioned summer fun, with ice cream, entertainment, and contests.  We need you to show just how "Wimberley Strong" we are by saying, "YES" and join us for The Big Scoop!

To learn about the Big Scoop or to purchase your tickets today, call 210.434.5531 ext. 2008 or email rebecca.earle@goodsamtx.org.
Related Events