Kamaway Market
Located at 112 Wimberley Square, and open seven days a week from 11-5, Kamaway Market offers a truly eclectic collection of local products as well as from around the world. We carry pottery, artwork, clothing, jewelry, Cypress Creek Lavender and hand poured soy candles as well as beeswax candles from Texas bees!  Customers return often for our colorful bolga baskets from Ghana, natural skin care products from Wimberley, Texas yaupon tea, and central Texas wildflower honey. And don't forget to check out our great collection of hats for those sunny Texas days!
Open 11am - 5pm Daily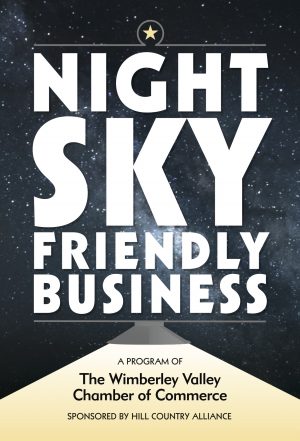 KAMAWAY MARKET has been awarded the Night Sky Friendly Business designation in recognition of a responsible and environmentally sensitive approach to outdoor lighting - providing illumination without light trespass, enhancing safety without glare, and helping to preserve the beauty of the Texas Hill Country's starry nighttime sky for all to enjoy.
The Wimberley Valley Night Sky Friendly Business Recognition Program is sponsored by the Wimberley Valley Chamber of Commerce, endorsed by the Hill Country Alliance and supported by the Wimberley Valley Dark Sky Committee. The program encourages the practice of responsible outdoor lighting.