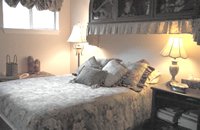 Ramsay House B&B and/or Ramsay's Cozy Cottage - 309 and 201 Edgewater Drive, Wimberley, TX 78676 - located on a deep swimming and fishing stretch on the Blanco River, even when others are dry.
Our B&B offers two beautiful bedrooms with private bathrooms, TV room with kitchen bar seperates the two rooms for privacy. There's a hot tub, continental breakfast.
Three miles from downtown Wimberley; Four miles to Market Days.
Our cabin is precious and can be seen if you Google Ramsay's Cozy Cottage.  Two queen beds and one queen sofa.  Last-minute bookings the day of are offered at a discount rate by the owner.  Call for pricing.  Most of the time we are booked, but there are times when you can slip in for a reduced price, especially during the week.  Things are less crowded during the week, and if you're looking for a get-away, why not consider Sunday night arrival for a few days.  Two-night minimum stay, please.
Not set up for small children or pets in our traditional b&b, but we do allow it at Ramsay's Cozy Cottage.  No smoking inside.
Free High-Speed Internet.
Visitors are welcome to view the property by appointment if we are home. 512-847-1892 or 512-659-2315
For Reservations contact Cynthia or Charles:  512-659-2315 or 512-796-1837